How do we get started on our personal life chapters? The easiest way to compile your personal history is by simply answering questions about your life. Or, you can help preserve the treasure of a loved one's life by asking them questions and recording their answers.
A personal history can be recorded either by writing the answers to life questions by hand, or by typing the answers on a computer. You might even record answers to our writing prompts by using a tape recorder or a recording app on your smartphone.
Feeling creative? Then how about making a unique photo album into a memoir, going into detail in photo captions. Scrapbooks are also excellent examples of pictorial memoirs.
Whatever works best for you or a loved one. The important thing? Getting started! And we think we have developed a system that will take away all your excuses for procrastination.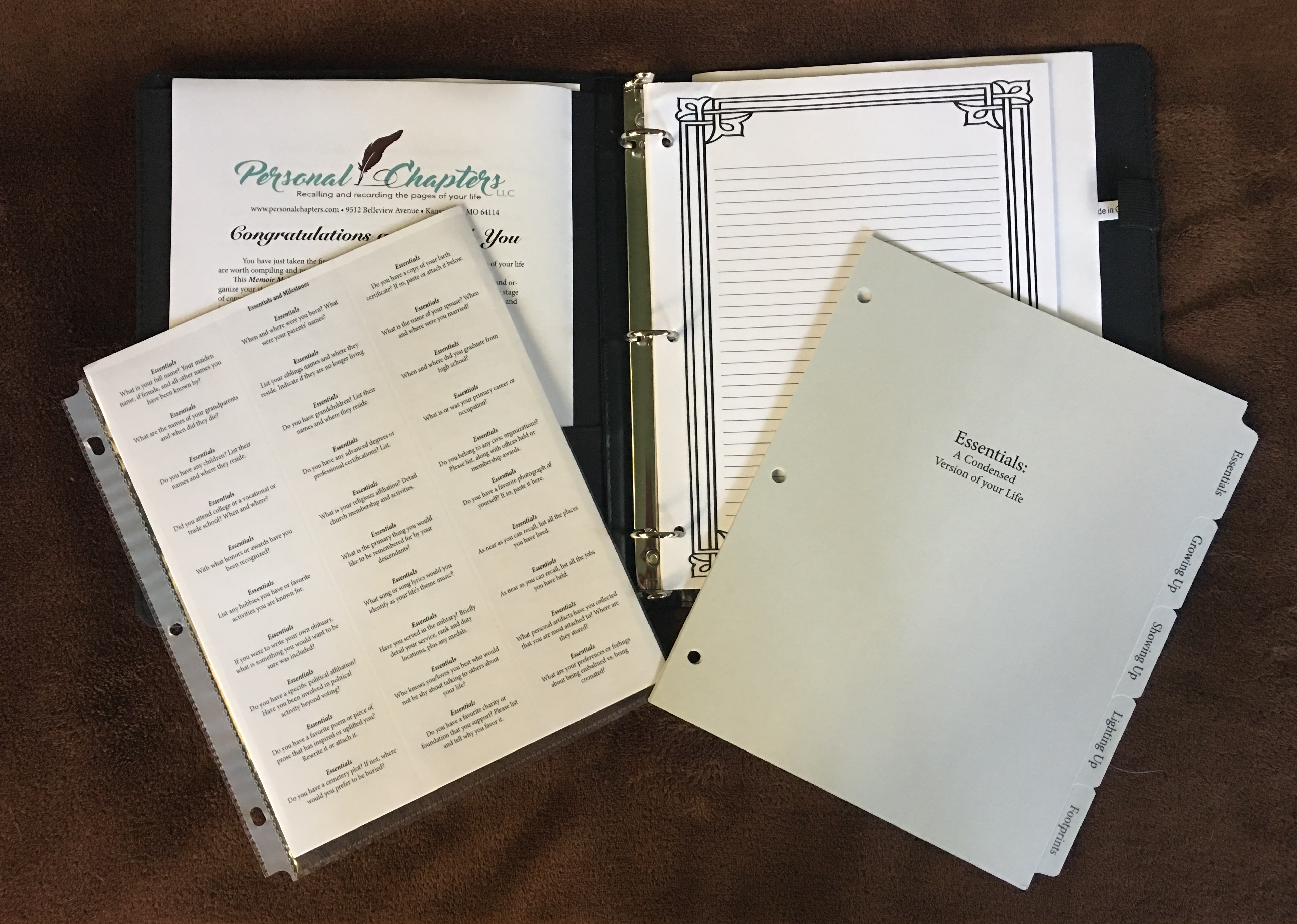 All it takes is a notebook, dividers and our special writing prompts
First, start with a simple notebook. Ours contains specially labeled dividers representing key eras or elements of your life story. Essentials is the "Reader's Digest" version of your life. Once completed, this section actually can serve as your obituary, long before you need it. That relieves your family of that burden and ensures its accuracy.
Next up is Growing Up, with writing prompts on your early childhood through adolescence. In the Showing Up section, answer questions about your adult life, achievements, career, etc. Lighting Up highlights your spiritual and religious life and the principles you will leave as a model and legacy for your family. Finally, the Footprints divider outlines and indexes all your personal artifacts, from social media passwords to the locations of your estate plan and insurance policies. This section also points to the location of your lasting contributions to the world, from any art or writing you've done to photos of valuables and who you want to inherit them.
First, peel off a writing prompt . . .
With this organization system to guide you, just start by peeling off a label that corresponds to a specific divider, then answer the questions, one at a time. Tackle the prompts by writing or by typing the answers on a computer.
Don't like to type either? No excuses! Download a voice-to-text app to your smartphone and email the resulting text to yourself.
. . . or record audio or video answers to the prompts
If writing or typing doesn't appeal to you, record your personal history with an app on  your smartphone. Or, use the video button in the photos app of your phone. Then your descendants will have your voice and your face as you tell them your stories.
And don't discount the possibility of making your story into a book
Once you've finished enough of the writing prompts, you'll treasure the stories of your life. Then you can consider compiling them into a booklet or a full-length book. We can help with that too, as we've guided many individuals in publishing their memoirs. In this modern era of print-on-demand publishing, it is inexpensive, quick and easy to print just enough books to give to your family and friends.