,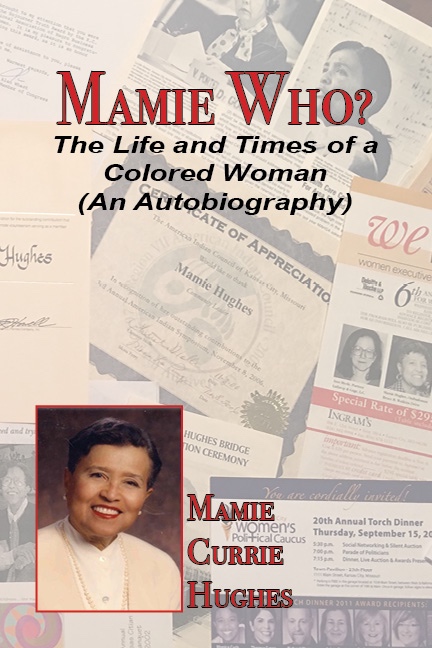 The battle for civil rights in Kansas City was personal to Mamie Currie Hughes. She was in the trenches with other young black leaders. And now the rest of us can experience the setbacks and triumphs of those days by reading Mamie's just-released memoir.
Memoir launches this week
Mamie Who? The Life and Times of a Colored Woman (An Autobiography) launches this week on Amazon in both paperback and Kindle versions, with  a limited edition hardback with dust jacket to launch during Black History Month. The saga of the journey to Mamie's personal publishing milestone is a story in itself. It's one that Personal Chapters is elated to have witnessed and assisted.
Mamie Hughes writes a fascinating memoir of her involvement in the local struggles for racial equality and preservation of black history in Kansas City. She adopted Kansas City as her hometown the day she married the late Leonard Hughes in her native Jacksonville, FL and moved here in 1949.
Fighting discrimination in churches, schools, public services
Mamie has been involved in multiple projects that helped build black community pride. She helped boycott restaurants that refused to serve blacks. She won a seat in the Jackson County Legislature. Her memoir illustrates a model of black community leadership. Yet she's not afraid to voice her opinions of the challenges. Challenges like preserving Kansas City's jazz history, promoting the Negro Leagues Baseball Museum and helping build a roadway through the heart of the city. (A bridge over that roadway now bears Mamie's name.)
She raised a family of five of her own and took in foster children. All the while, Mamie fought discrimination in her church and in the schools the children attended. She worked as a teacher, a community planner and even served as a regional director for the federal agency ACTION. Mamie advocated for and organized projects to help the elderly and many other ethnicities. She cultivated friends among all races, ethnicities and religions.
Mamie Who? gives readers a fascinating summary of this 87-year-old woman's legacy to her family and her community. I consider it an honor and privilege to be her editor and publisher. Best of all, I've developed a friendship with this octogenarian. She is truly a dynamo who will never stop doing, volunteering and advocating for the causes she believes in.
When she first ran for office and went out on the campaign trail, Mamie struggled for name recognition.  "Mamie who?" they often asked when she introduced herself. Her memoir clearly shows that question is rarely asked now. Mamie Hughes has become a Kansas City treasure.
To order the paperback version of Mamie's book, click on this link: https://www.amazon.com/Mamie-Who-Times-Colored-Autobiography/dp/1539594432/ref=sr_1_3?s=books&ie=UTF8&qid=1483116889&sr=1-3&keywords=Mamie+Who%3F